To celebrate World Art Day we are featuring Glow Art – our Neon effect Drawing Board in a radical and very fetching deep pink. It is a totally brilliant light up drawing board that uses dozens of coloured LED's to create a glowing effect on anything you draw.
And it is very handy for half term travelling.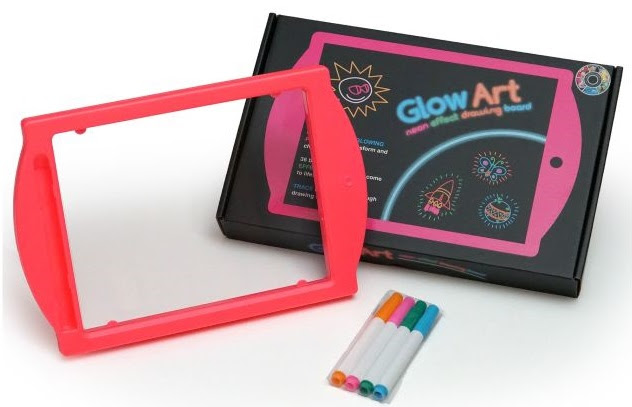 It is transparent so you can trace a favourite picture, or be entirely original and create your own works of art with the four fluorescent marker pens. Then you turn the frame on and watch the lights illuminate your picture in 36 different ways and colours giving it a bright neon effect glow. Like this.
When you are finished, wipe it clean. It is a great size for travelling or for carrying with you in a backpack to share your visions. It costs £25.95 and will inspire your inner artist. Click here for the video.
It also comes in black, but you might have to move fast as it is selling out very quickly.
Happy Creativity,
The Wicked Uncle Art Team
Ps And now for some non- random jokes about artists:
What do you call someone hanging on a wall? Art.
Vincent van Gogh walks into a bar, and the bartender offers him a drink… No thank you, said Vincent, I've got one 'ere.
How many surrealists does it take to change a light bulb? Two. One to get the giraffe………
It's crazy that Leonardo da Vinci could paint and invent all that stuff and still find time to be a crime fighting turtle.
I've developed a foolproof technique to sculpt a model of an elephant:
1. Get a huge block of marble.
2. Chip away anything that doesn't look like an elephant.
You don't need a parachute to go skydiving. You need a parachute to go skydiving twice.
I came up with a new word yesterday. Plagiarism.